August, 2016 – February, 2017

NATIONAL DESIGN FONDART 2016
Some month ago we received a grant from the FONDO NACIONAL DE LA CULTURA Y DE LAS ARTES in Chile to produce the first series of the Mapuguaquén speakers. We are very excited to move to Nacimiento, Chile from August – February to work on the speakers manufacturing, documentation, packaging and homepage together with our team from Chile, Portugal and Germany.
---
23- 29th May, 2016
PUNISHMENT ISLAND AT DOCS BARCELONA
Our documentary "Punishment Island" was selected as one of three projects for the rough-cut screenings at Docs Barcelona. We will be at Barcelona next week to present it infront of the international jury together with director Laura Cini.
---
27- 29th May, 2015
L'OMBELICO MAGICO AT BELLARIA FILM FESTIVAL
"The Magic Legacy"/"L'ombelico magico"  is finalist at Bellaria Film Festival, as one of the ten best Italian documentary recent productions.
---
13th March- 15th April, 2016
PHOTOGRAPHY EXHIBITION IN BREMEN
Pablo's photographies "Ick bin ein Berliner" will be exhibited in the group exhibition Blickkontakt at Villa Sponte in Bremen. Sonntag den 13.03. um 15.30h in der Villa Sponte am Osterdeich 59
---
27 Nov- 4th Dec 2015
L'OMBELICO MAGICO OFFICIAL SELECTION OF FESTIVAL DEI POPOLI
The documentary "The Magic Legacy"/ "L'ombelico magico"  just became part of the Official Selection of the Festival dei Popoli in Florence.
---
6- 8th Nov 2015
EXHIBITION
The Mapuguaquén speakers will be presented at the SZDIF – International Industrial Design Fair in Shenzhen, China.
---
SHORTLISTED for CNCA
The MAPUGUAQUÉN speakers have been shortlisted for the Design and Innovation Prize of the National Council for Arts and Culture (CNCA).
---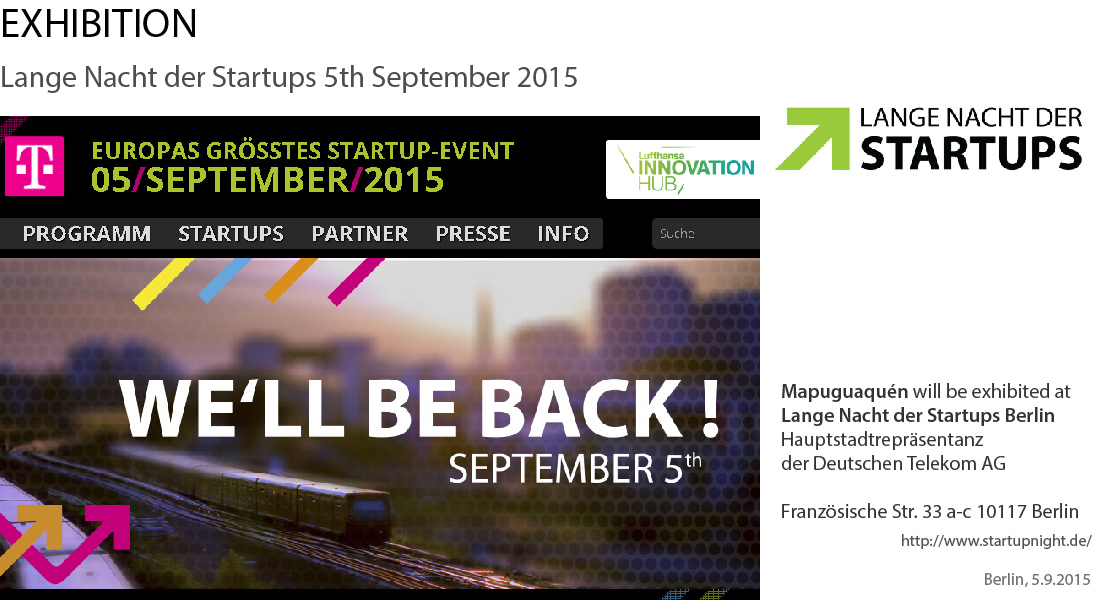 ---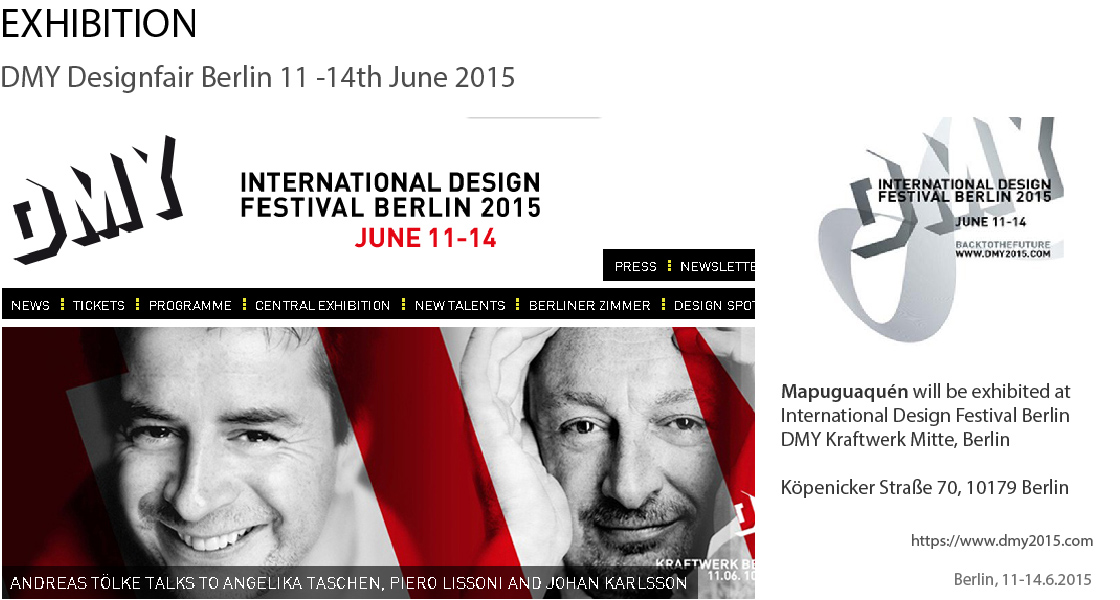 ---
June 2015
MAPUGUAQUÉN in H.O.M.E. Magazine
The German H.O.M.E. Magazine writes about Mapuguaquén "Award: Grün gewinnt! Preisgekrönte Nachhaltigkeit" p.96

---
JUNE 2015
AYSÉN PROFUNDO in ALTAIR Magazine

The spanish magazine "ALTAIR – Cultura viajera y periodismo" contacted us some month ago to publish the contents of Aysén Profundo. In this month edition Elisa Ramirez from Puerto Vagabundo will teach us about wool and weaving.
---
1st – 10th June, 2015
GREEN PRODUCT AWARD exhibition at IHK, Berlin

MAPUGUAQUÉN will be exhibited as part of the Green Selection 2015 at Industrie- und Handelskammer zu Berlin (IHK), Fasanenstraße 85, 10623 Berlin

---
5th- 8th May, 2015
GREEN PRODUCT AWARD exhibition at Interzum

MAPUGUAQUÉN became part of the Green Selection that will be exhibited at Interzum fair.  Hall 4.2 Innovation of Interior, Stand A-066-068 und E-069, Cologne, Germany


---
SALONE SATELLITE AWARDs – SPECIAL MENTION

MAPUGUAQUÉN just received an "Special Mention" at Salone Satellite Award Salone del Mobile de Milan 2015
---
14th – 19th APRIL 2015
SALONE SATELLITE

With the financial support of the Chilean FONDART we will exhibit our hand-thrown clay speakers "Mapuguaquén- The Sound of the Earth" at Salone Satellite del Salone del Mobile de Milan, Italy.
You can find us at hall 24, booth No. A12.

---
JULY 2- 5, 2015
PHOTO EXHIBITION AT Millerntor Gallery in Hamburg

The MILLERNTOR GALLERY #4 will occupy the football stadium of the FC St. Pauli in Hamburg, which spans across 4,000 sqm. For three days, the stadium will transform into a public art project that provides an arena for creative engagement, intercultural dialogue and an exchange with the urban collective. The main objective of this hybrid event will take place in pursuits of international NGO Viva con Agua, whose objective is not only to raise funds in order to support clean drinking water and sanitation initiatives, but also to raise awareness of the lack of available clean drinking water in many countries of the global South.
---
SELFIES FROM ORANIENPLATZ in 39NULL Magazine
The photographs from "The European Dream- Selfies from Oranienplatz" have been published together with an article written by Hark Machnik about"Neu-Berliner" in 39NULL Magazine 3/2015 dedicated to the topic of "the other"

---
16th OCTOBER – 16th NOVEMBER, 2014
PHOTO EXHIBITION AT ORANIENPLATZ, BERLIN
Our participative photography project "The European Dream – Selfies from Oranienplatz" will be exhibited during the European Month of Photography at Oranienplatz in Berlin. Opening 16th October, 6pm.
http://www.mdf-berlin.de/de/ausstellungen/ausstellung/the-european-dream/

---
---
---
1, 2, 3 AUGUST 2014
POTTERY WORKSHOP IN BERLIN
Ricardo Lopes (the hands of Mapuguaquén) will give a three day workshop at the potters wheel in Naunystraße in Berlin